Online registration for "The Roots of Agape - Fall 2019" is now closed. Ticket sales will resume at the door. Please check back to the website for additional information. We look forward to seeing you at the event!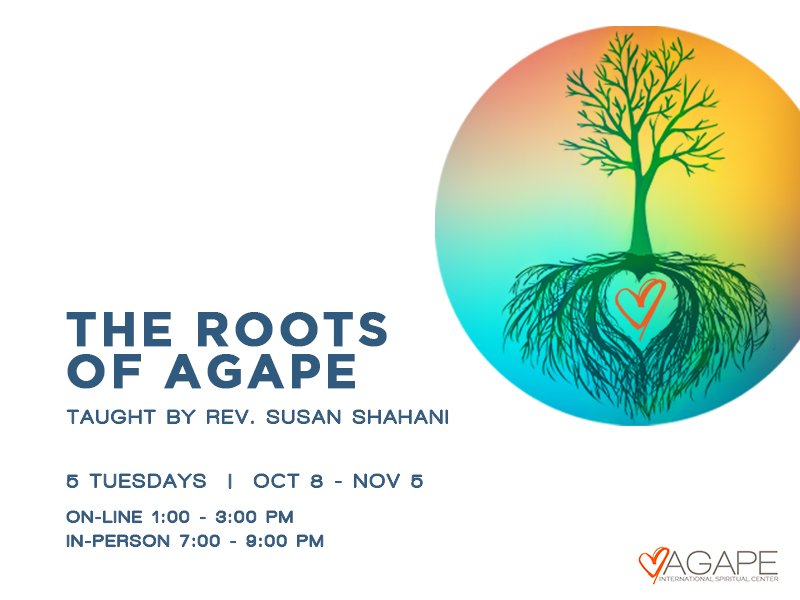 The Roots of Agape
Rev. Susan Shahani

Agape University; 5- Week Course; Fall 2019
Tuesday Evenings 7:00PM – 9:00PM
October 8th, 2019 – November 5th, 2019
Saban Theater Tower
8444 Wilshire Blvd, Beverly Hills, CA, 90211
From New Thought to New Living. Join us in this transformational 5 week journey, through the minds of New Thought luminaries. We'll excavate old core beliefs tangling up our mental root system as we prepare our minds for the planting of new seed thoughts. We'll explore the lives of many New Thought Pioneers who came to understand the power of our thoughts and beliefs. We'll also focus on Rev Michael, his influences and contemporaries, and deepen our understanding of the unique roots of Agape's teachings. Join us as we activate our own inner gardener and leap into a brand new world flourishing with fulfilled desires, rich with new experiences!
- Learn from New Thought Luminaries
- Activate your Inner Brilliance
- Discover Agape's Birth
- Explore Rev Michael's Influences and Contemporaries
Course Appreciation Price -Early Rate : $150
Day of Class Price: $195

Required Books:
Healing Without Medicine by Albert Amao
The Man Who Talks With the Flowers by Glenn Clark
The Man Who Tapped the Secrets of the Universe by Glenn Clark
Spiritual Liberation by Rev Michael Bernard Beckwith
Registration Department— 310-348-1260 Ext. 1611— Registration@agapelive.com
COMPLETE THIS FORM TO ATTEND IN PERSON -
There are no transfers to Online Participation